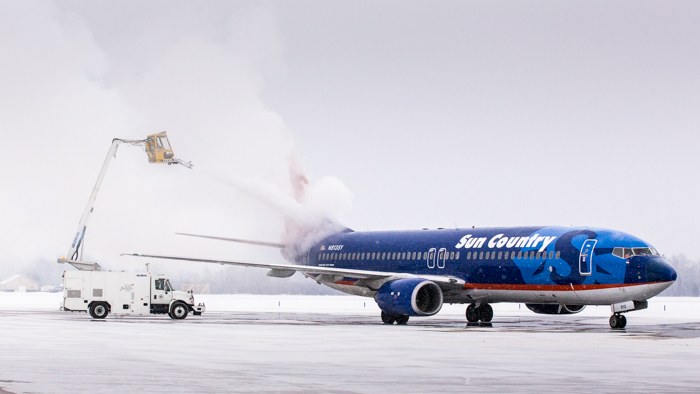 At
Range Regional Airport
, we understand the importance and necessity of deicing and for the past several decades have been providing outstanding aircraft deicing services.
All line staff at Range Regional Airport undergo annual recurrent training and follow all of today's industry safety standards and best practices for deicing aircraft. To provide the most efficient and effective services possible, our team employs state of the art de-icing services in our cold-weather climate season. All of the most advanced technology and systems available to support throughput while simultaneously reducing the applied volume of ADF.
Range Regional Airport is experienced in servicing all types of general and business aviation aircraft.
We can ensure that your aircraft is ready to fly in most conditions with our Type I and Type IV fluids, applied with a Global 2100TE truck equipped with an air blast and boom reaching the tails of 737's. You can protect your aircraft from winter contaminants, as well as ensure a safe take-off with the deicing products available from Range Regional Airport.
In addition to our deicing solutions, we have also invested in the latest weather prediction technology so we can always be responsive to our clients' needs, providing them with deicing services and solutions at any time throughout the year and keeping up with demand.
Contact us for aircraft deicing services & more!
When it comes to aircraft line services, deicing solutions, and repairs, the team from Range Regional Airport offers services to suit most needs. Our general aviation solutions include hangar rentals, refueling services, line services, aircraft painting, and more.
As a regional airport that provides fixed-base operations, Range Regional Airport has a comfortable lobby and pilot resting areas for crew and passengers, and we offer parking and tie-down services, catering solutions, and a comprehensive list of line services.
To learn more about the aircraft deicing and line service solutions available from Range Regional Airport, contact us online today or call (218) 262-3451.