If, when you land or prepare for departing from Range Regional Airport, and find that your aircraft is not airworthy, or just in need of general maintenance we have you covered.
Family owned and operated, TNT Airworks is conveniently located on the Range Regional airport grounds conducting general aviation aircraft maintenance, for over 25 years.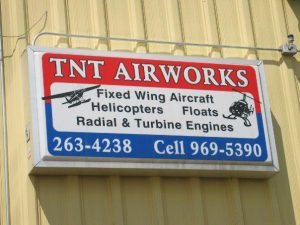 Thomas D. Carlson, President, has extensive experience which includes 16 years working on Bush Planes in Alaska. He has performed contract maintenance for the Alaska State Troopers, Alaska Department of Fish & Game, U.S Forest Service, and U.S. Department of the Interior. Besides being IA certified since 1990, Tom is also Pratt & Whitney PT6 and Robinson Helicopter Certified.
TNT Airworks is committed to providing exceptional maintenance on all general aviation aircraft, including, Sheet Metal Work, Annuals, 100hrs, Float Installation, Repairs, Rebuilds, and Dynamic Propeller Balancing.
The qualified aircraft maintenance technicians are equipped to perform a range of aircraft repair.  TNT Airworks is committed to providing exceptional maintenance on all general aviation aircraft including, Schweizer Robinson Helicopters.  Maintenance and Repair services include:
Pre-inspections
Major repairs
Major alterations
Structural repairs
Cessna 100 Series wing, aileron, and horizontal stabilizer rebuilds
Sheet Metal Work
Annuals
100hrs
Float Installation and Repairs
Rebuilds & Dynamic Propeller Balancing
At Range Regional Airport, TNT Airworks takes its maintenance and repair services very seriously, ensuring that all clients have the safest and most up-to-date technology and expertise at their disposal. All of their aircraft maintenance technicians are highly-skilled and trained to provide the industry's best services.
In addition to maintenance and repair solutions, Range Regional Airport also provides general aviation solutions, such as hangar rentals and refueling services, as well as de-icing solutions.
As one of the area's foremost regional airports, we offer daily commercial flights to Minneapolis by Delta, and charter flights to Laughlin, Nevada, by Sun Country Airlines. Additionally, Range Regional Airport also provides Life Link III air medical services, DNR aerial fire suppression, and multiple general aviation services.
Contact us online to learn more about our aviation services or call (218) 262-3451.