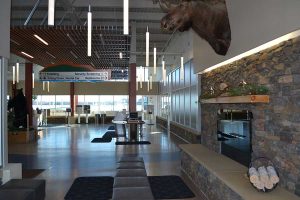 Range Regional Airport, located in the iron range region of beautiful northeast Minnesota, stand ready to fulfill commercial airports 24/7/365.  We are committed to providing outstanding service to our commercial airline patrons with the following:
Free public parking next to the terminal
Rental cars on site
Complimentary Wi-Fi
Comfortable passenger terminal
Conference rooms for rent
Pilot Courtesy Vehicle
NEW remodeled and modern FBO facility
Complimentary coffee and popcorn
Our Accessibility Services
For passengers with disabilities, Range Regional Airport is equipped to offer all of the necessary accessibility services to make your visit with us a safe and comfortable one including:
Nondiscrimination: Range Regional Airport offers aviation and administration services that are in compliance with federal and state laws and regulations and does not discriminate toward persons with disabilities.
Airport Parking: For those with disabilities, airport parking services are offered around the clock in both, our hourly and long-term parking areas. In each our brightly lit parking area, you'll find signs directing you to handicap parking spaces.  For your security, there is some security camera coverage.
Wheelchair Assistance: Wheelchair service is available at Range Regional Airport for those in need. To make certain there are no issues with this service, it's recommended to schedule your wheelchair service in advance of your arrival. However, it may be requested at ticket counters on the day of travel as well.
Restrooms: All restrooms located throughout the airport are wheelchair and handicap accessible.
Contact us today for more about our airport services!  
When you place your trust in Range Regional Airport, we'll ensure that you have everything you need to make you comfortable. For more information about preparing for your flight visit us here. Book a flight from Range Regional Airport!
You can also contact us online or call (218) 262-3451 with any questions or concerns.